Plant-based foods may seem like a trend, but it's not going anywhere. In fact, it's growing more and more each year. A big concern for most people tends to be, how am I supposed to get enough protein? Many people feel that they must eat meat because, well, it's what human beings do! Here's a little, you can have a plant-based diet without going completely vegan. Knowing the differences between various plant-based diet options might change your mind about it all. Take a second look before you pass on that meatless option!
What Is Plant-Based? 
First, let's cut the word diet. Once we start labeling things as a diet, we quickly fall off the wagon or feel as if we're being forced to do something we dislike. Out of any diet out there, people feel as if going plant-based is ridiculous, impossible, expensive, and all those other misconceptions that we've heard before. 
To reiterate, you do not have to go vegan to have a plant-based diet. When committing fully to a vegan diet, you're probably doing it for more ethical reasons than thinking of all the health benefits. 
Eating plant-based and still consuming a very low amount of meat per month is okay, too. The point of going plant-based is to load up on all of the good stuff – plants! Getting rid of animal fats and the wrong kinds of proteins and carbs can do wonders.
A plant-based diet, in simplest terms, means that the majority of your meal is plant-based. Taking the stress of maintaining a diet and all the rules that come with it will make your life a lot easier.
Protein Problems 
A big holdback for many looking to switch to a plant-based diet comes down to protein intake. Well, there's a lot of protein you can get from going plant-based, and it comes out to a more beneficial way to get protein. Proteins are made from amino acids, and there are sources of protein that contain all the essential amino acids we need.
When looking at plant-based, some of the best protein sources include the following:
Tofu

Tempe 

Beans and Lentils 

Nuts & Butters (almonds, walnuts, cashews)

Seeds (chia, hemp, flax, sunflower, sesame)

Quinoa 

Greens (broccoli, kale)
So, What Are Some Plant-Based Recipes? 
That plant-based lifestyle is starting to sound a bit more interesting, right? Below, we've compiled a few great plant-based recipes for you to try out. When it comes to plant-based recipes, you'll quickly find out that there's something for everyone. 
Start The Morning Right – Tofu Scramble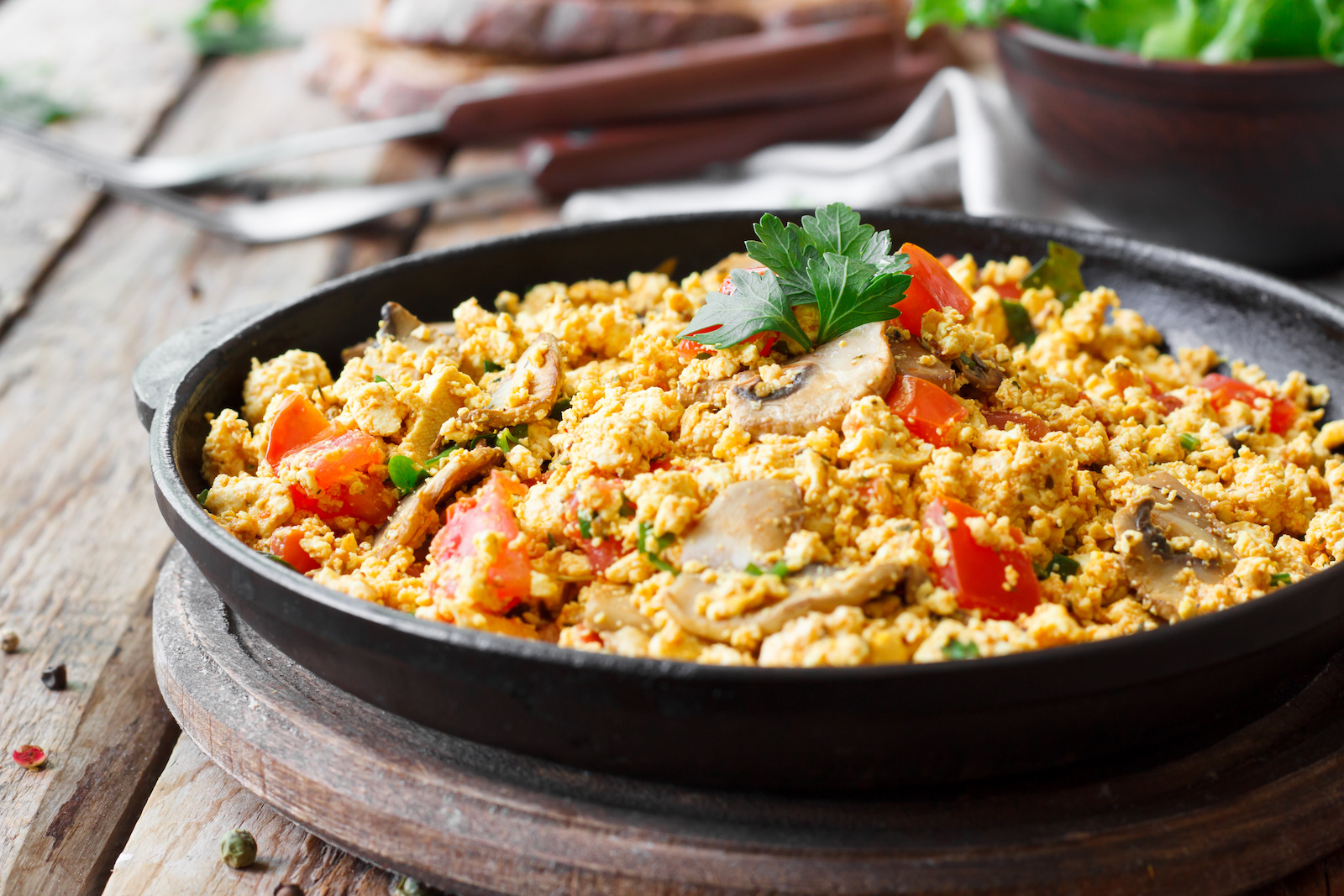 Eggs are a huge part of everyday life and a prime ingredient for breakfast. However, about 60% of the calories in eggs are made of saturated fat. Aside from that, they're loaded with cholesterol. Using tofu as an egg substitute in the morning will provide more protein and a simple, healthier start to your day. 
Ingredients: 
1 block Soft Tofu (14oz)

1 tbsp Grapeseed Oil (Optional)

1 tbsp vegan chicken or vegetable broth

1 tsp Nutritional Yeast

3/4 tsp Sea Salt (to taste)

1/2 tsp onion powder

1/4 tsp garlic powder

1/4 tsp Turmeric

Freshly Ground Pepper
Cooking Instructions:
Heat a pan on Medium-Low heat.

Add oil if using, then crumble the tofu over the pan, (you can use your hands or a fork)

Add broth along with remaining ingredients.

Combine the tofu and spices to make it evenly coated.

Cook until a good amount of the liquid is absorbed (should take about ten to 15 minutes). 

Serve warm as desired. Will keep in the fridge for at least 5 days in an airtight container.
Wings Like You've Never Had Before – Korean-Style Cauliflower Wings
As you cut more meat out of your diet, there may be some things you'll miss no matter what. The great thing about plant-based is that you can have the food you love but in a new form! These Korean-style cauliflower wings are delicious in every possible way. 
Ingredients: 
For Sauce: 
2 tsp of sesame oil

2 cloves of garlic 

5 tbsp of soy sauce

2 tbsp of agave syrup

2 cm of grated ginger

1 tbsp sriracha sauce 

1 tsp of apple cider vinegar or white wine vinegar/rice vinegar

2 tsp of cornflour

1-2 tbsp of water
For Cauliflower:
1 full head of cauliflower, chopped into florets

1/2 cup (a little less is okay) of plain flour 

3 tbsp cornflour

2 tsp sesame oil

1/4 tsp salt

a sprinkle of black pepper

1/2 tsp garlic paste

1/2 cup of water 
Cooking Instructions:
For the roasted cauliflower:
Preheat the oven to 350 F, then line a baking dish with baking paper.

Mix the plain flour, cornflour, black pepper, and salt in a bowl

Combine water, sesame oil, and garlic paste in a separate bowl, then add it to the dry ingredients

Continue stirring till mixed well, and then quickly add in the cauliflower florets (it will thicken over time otherwise). Tumble with your hands (or toss around if you feel confident enough) until the cauliflower is well coated

Transfer cauliflower onto the baking tray, trying not to pour too much batter in, or else this will stick all of the florets together once cooked.

Bake for 25 mins until golden. Meanwhile, you can make the sauce.
For the sauce:
Add the soy sauce, sriracha sauce, agave syrup, sesame oil, grated ginger, garlic, and vinegar in a small pan. Turn the heat on medium.

Meanwhile, mix the two tsp of cornflour with two-three tbsp water to form a paste. Once in the sauce boils, slowly add in the cornflour and stir. If the sauce is too thick, add in a bit more soy sauce

When the cauliflower is ready, pour over 3/4 of the sticky sauce and tumble with your hands (again or toss if you feel confident). Return the cauliflower to the oven and bake for a further ten mins to crisp up and caramelize.

Once cooked, brush over the remaining sauce on the cauliflower.
Learn More About Living a Plant-Based Life, Today!
Whether you decide to make a single plant-based dish just to try it out or you're ready to take a deep dive into this lifestyle, Healthonomic is here to help! Give us a call today to learn more about plant-based and vegan lifestyles.